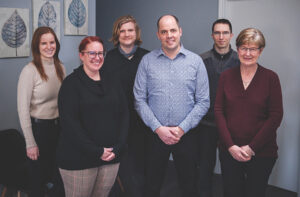 Elliott & Associates was started in August 1989 by Jim Elliott of Thorndale.  Jim had a farming background, growing up on a dairy farm, and went on to pursue a career in accounting, with a specialization in farm taxation.  Our office was originally located in London, where Jim and his wife Sylvia worked together along with supporting staff.  Over the years the business grew both in its client base and staff.  The office relocated to Thorndale for nine years and then moved back to London in 2006.  At that time, Jeremy Koetsier joined Elliott & Associates as a partner.  Sadly, in 2007 the founding partner Jim Elliott, passed away rather suddenly.  Proudly though, Elliott & Associates has remained a successful growing business under the leadership of Jeremy Koetsier, the Sole Proprietor.
In 2010, Dorothy Kassies brought her small bookkeeping and tax preparation to our company and joined our team.
In 2020, we sadly said goodbye to Sylvia as she retired from Elliott & Associates after 31 years. We are sad to see her go as she was an incredible asset to us and her smiling face will be greatly missed  by many.
In October, 2020 we welcomed Laura Van Meppelen Scheppink to our front office/reception area.
Click here to meet our team.